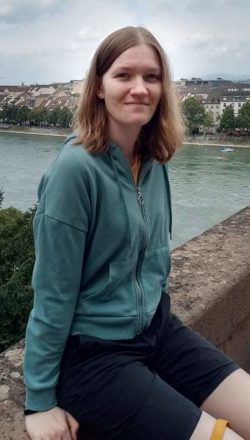 My name is Joy Lachat, I live in Paris, the most romantic city in the world, and I am currently working as a microbiology researcher at INSERM. When I was a student, I dreamed of becoming an artist-painter and one day being able to exhibit my paintings in broad daylight. Two years ago, in the midst of a period of confinement and a health crisis linked to the Covid-19 pandemic, I found myself deprived of my job. Stuck at home, I decided to reconnect with my passion for art and started taking online classes to learn the different painting techniques.
It has been two years now that I have been painting with great happiness, and thanks to the support of my family and friends I have started sharing my designs on Instagram (@jsl_painting), and more recently on my JSLpainting website as self-taught painter. The paintings I publish there are mainly interpretations of landscapes in acrylic, inspired by my travels in Japan, Scotland and Switzerland. I draw my inspiration from nature, from science, and also from painters whom I very much admire such as Georgia O'Keeffe, Henri Matisse and Claude Monet. You will also discover some ink portraits in the manga style and photographs of my travels. I hope to make you travel and you will feel beautiful emotions through my creations!
"Art isn't supposed to be beautiful; it's supposed to make you feel something. "
PEINTURES
DESSINS
PHOTOGRAPHIES

Follow me on my Instagram account :